Pete Robins climbs 200 FAs in 2020 -
21/01/2021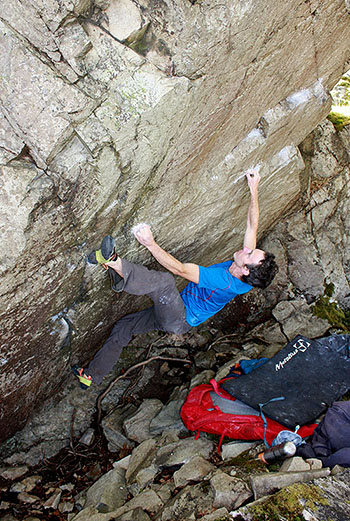 James McHaffie on The Shield (8A), Clegir photo: Si Panton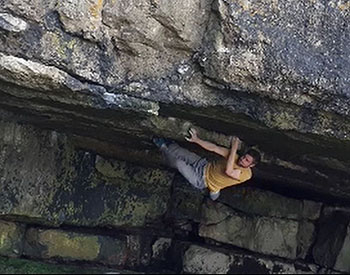 Pete Robins on Underworld (8A), Fedw Fawr photo: Robins collection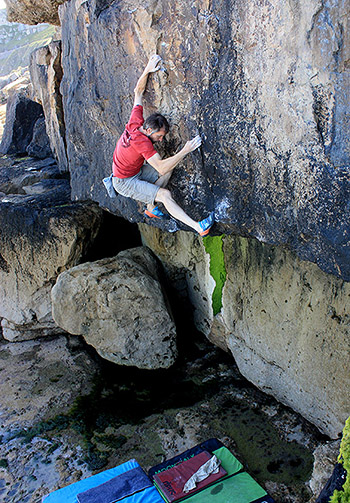 Pete Robins on King Ja Ja (7B+!), Beyond Pigeons photo: Si Panton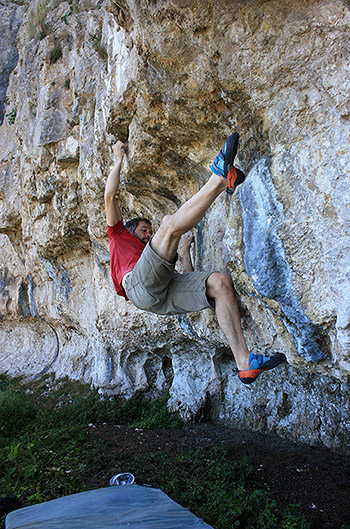 Pete Robins on Lemmings (8A), Above Pigeons photo: Si Panton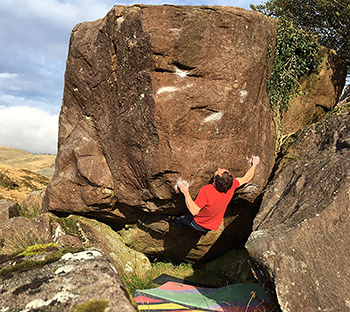 Mark Katz on Lady Boy Arête sds (8A), Cwm Trwsgl photo: Ceri Katz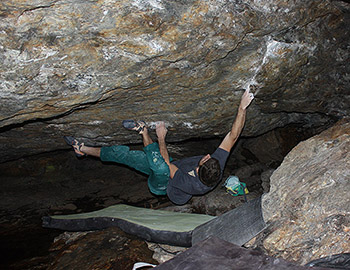 James Taylor on Disasterpiece (7C-8A), Cromlech photo: Si Panton
Chris Doyle on Ormeblower (7C+), Muriau Golygfa'r Môr photo: Si Panton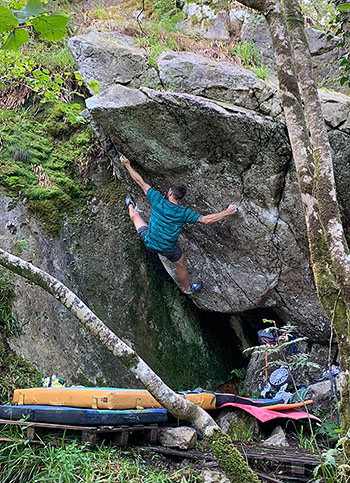 Craig Davies on La Large, Large (8A) photo: Joe Lawson
2020 was a strange year in all sorts of ways. The Covid Pandemic disrupted all of our lives, sometimes with tragic consequences. There were some positives amongst the doom and gloom though. The travel restrictions forced climbers to focus upon their local crags. The resulting wave of new development was a great surprise. The Fachwen and Clegir areas saw over 130 new lines added, with the main activists being James McHaffie, Jon Ratcliffe, Martin Crook, George Smith and Si Panton. The Shield (8A), Lockdown sds (7C+) and The Padarn Face (7C), all by Caff, were the stand out hard lines.

The prospect of a new guide helped fuel the push for new ground. Out on Ynys Môn Pete Robins had hit the ground running, lapping up new problems at an alarming rate. Luckily for him the coastal crag of Fedw Fawr, which is close to his house, was ripe for further development. He even managed to add two 8As to the tally, including the gobsmacking roof line of Underworld and Captain Corona's Pangolin, a fierce direct start to Lurcher.

As the travel restrictions eased Pete spread his gaze wider. He soon started making raids into the mainland crags, bagging numerous high quality lines at Moel y Gest (where Dan McManus climbed the incredible Press or Drop (7C)), Craig y Gesail and an entirely new area at Castell Cidwm. Pete then made two crucial discoveries on the Ormes. The area of caves and undercut walls beyond the Pigeon Cave boulders turned out to be a treasure chest brimming with amazing lines. While up above the Marine drive a neat cave gave a brace of immaculate problems, including the desperate Lemmings (8A), which took quite a few sessions to crack.

Later in the year Pete discovered two new coastal crags close to his home. These yielded a bumper crop of problems in the 6 + 7 range. It seemed like the big number was possible and just before the second lockdown restrictions came into place he ticked his 200th first ascent of the year.

The final tally breaks down as: 5s: 8, 6s: 81, 7A: 34, 7A+: 24, 7B: 25, 7B+: 16, 7C: 6, 7C+: 2, 8A: 3. That's 111 7 + 8s, i.e. approximately 5 times his and Chris Doyle's top scores in 2019! (Chris narrowly beat Pete to the most 7 + 8 FAs in 2019.) It seems unlikely that such a record tally could happen again, but who knows what lies around the corner?!

"First objective was to do more FAs than Doylo. But then I just got keen to get as many as poss done for the new guides...so see, it's not really about me!! Call me selfless!", enthused Pete.

Others in the North Wales scene had a good year too. Craig Davies discovered an amazing boulder in the previously ignored Cwm Craig-las near Nantlle, with lines up to 8A+ (see the front cover of the new Mountain Crags volume). He also climbed the future classic False Prophet (7C) up above Aber Falls. Mark Katz, now living back in North Wales after a twenty year secondment to Yorkshire, picked up some superb first ascents. Highlights included Napoleon sds (8A) at Caeddafydd, Lady Boy Arête sds (8A) in Cwm Pennant, Higg's Problem sds (7C+) at Marchlyn, Migneint Cowbois (7C+!) near Carreg y Foel Gron and The Lad low start (7C+) at Cerrig Cochion.

Owen Hayward kept himself busy at Castell Cidwm with many good lines up to 7B+ and James Taylor added the brilliant Disasterpiece links (7C – 8A) to the Cromlech Cave, as well as nipping ahead of Caff to grab the first ascent of The Mammoth (8A) at Clogwyn y Fulfran. Chris Doyle picked off some prize cherries: Outbreak (8A) also in Nant Gwynant, Chossconnaissance (8A) at Anafon, Chinny Racoon (8A) on Little Orme and the impressive Ormeblower (7C+) at Sea View Walls.

Jack Palmieri zipped back and forth making quick repeats of the latest test pieces, and also added Abradontdabra (8A) below Pant Ifan and Bara Brith Low (8A) at Clogwyn y Bustach. Luke Fletcher picked off several notable FAs but his best effort was probably the wild La Large, Large (8A) at Coed Ty'n y Graig/Fontainefawr.